1988
Molly Malone is unveiled on Grafton street to celebrate Dublin's (dubious) millennium. Eurovision returns to the RDS, and Nighthawks premieres on RTE.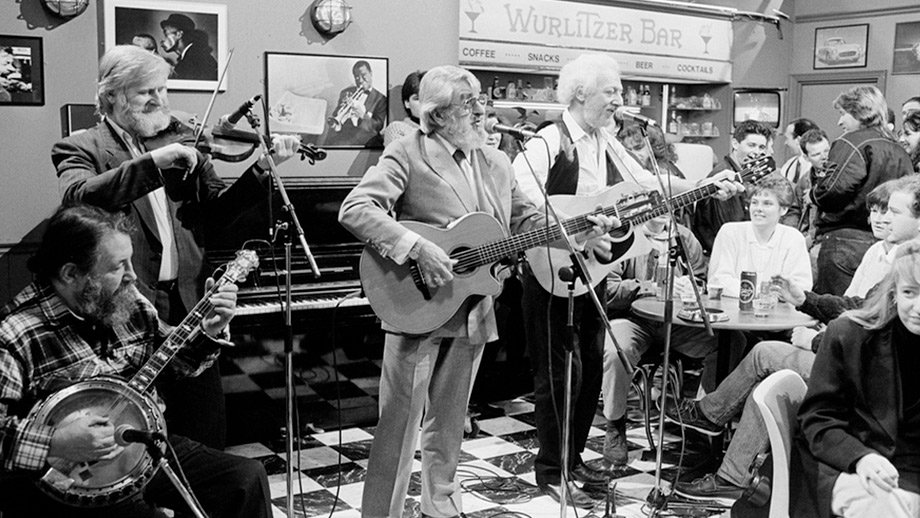 The Dubliners on Nighthawks, RTE
Music
The Eurovision Song Contest arrives in Dublin and is won by Celine Dion who represented Switzerland. House Music continues to grow with the likes of Krush, Bomb the Base and The Beatmasters and Acid House making a number one with S-Express. Kylie Minogue made her music debut with 'I Should Be So Lucky' staying at number one for 5 weeks. This year saw lots of musical births with Adele, Jessie J and Tulisa all being born.
Movies
We saw the first of the Die Hard movies hit the big screen this year and Bob Hoskins starring alongside a cartoon bunny in in 'Who Framed Roger Rabbit'. Tom Cruise works as a barman in Cocktail but the biggest movie of the year was Rain Man with Dustin Hoffman. We said goodbye to Kenneth Williams and welcomed Rupert Grint to the world.
TV
We said goodbye to Benny and Miss Diane for the first time as Crossroads came to an end this year but welcomed Red Dwarf, Nighthawks, and This Morning into our living rooms.